Who Can Afford To Be Critical?
Campaign (4 fanzines, 2 videos, flyers, posters, t-shirts)

(Masters Project)
Who Can Afford To Be Critical?
takes the shape of a multiformat campaign highlighting how dimensions of affordability, class and labour are neglected when considering a view of design as a powerful discipline that can be critically engaged with social and political matters. Even if
design
is powerful, can we say that individual
designers
are powerful as well?
Website
2022

2022

Erro 417: Expetativa Falhada
Identity, communication, editorialClient: Galeria Municipal do Porto, Marta Espiridião
with Inês Pinheiro and Vítor Serra (as Multa)
We developed the visual identity for the exhibition
Erro 417: Expetativa Falhada
at Galeria Municipal do Porto, curated by Marta Espiridião. Participant artists were Alice dos Reis, Aliza Shvarts, Ana Hipólito, Carlota Bóia Neto, Catarina Real, Daniela Ângelo, Elisa Azevedo, Gisela Casimiro, Hilda de Paulo, Jota Mombaça, Odete and Xavier Paes.
2021–2022


Gaia
Identity, editorial, webdesign and package design
Client: Salomé Lamaswith Inês Pinheiro and Vítor Serra (as Multa)

"We would all like to end up reconciled with the world, to know what world we live in and consequently what life is."

Artist and filmmaker Salomé Lamas invited us to design a record-cum-publication for her project
Gaia,
which departs from a meteorite she acquired on eBay. The object comprises of a box which encases a book and a record. It features correspondence with scientists Jérôme Borme and Alex Bondarchuk; images captured with a scanning electron microscope (SEM); a soundscape designed by Miguel Martins with the contribution of 15 international musicians, texts by Salomé Lamas and João Laia, as well as a web curated out of multiple authors and theorists.
We also designed the
webpage
and the poster for the release event in May 2022.
Available through
Mousse Publishing
.
Printing: Maiadouro, Record Industry Spain
2021–2022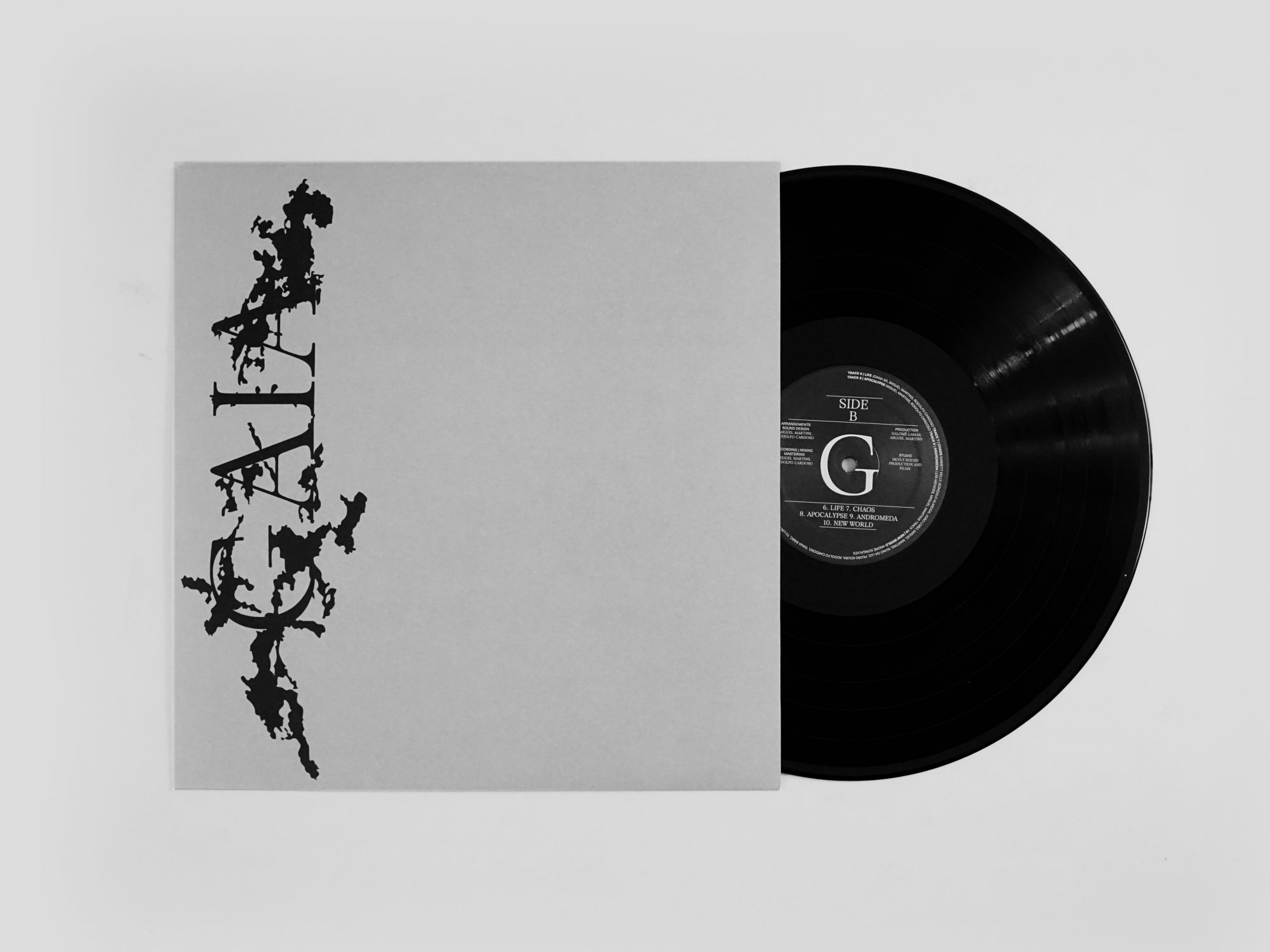 Hotel Royal
Poster
Client: Salomé Lamaswith Inês Pinheiro and Vítor Serra (as Multa)

National and international posters for Salomé Lamas' short film
Hotel Royal (2021)
, which premiered at the 74th Locarno Film Festival.
2021


Electronic Warfare
Identity, graphics for social media
Client: Diogo Melo / Electronic Warfare
Electronic Warfare is a residence programme for electronic music and sound art in Lisbon. I'm responsible for the identity and social media graphics.
Read about it here (Portuguese).
2021–ongoing


The Plantation of the Mind
Installation (4 prints, audio piece)
with Maxime Benvenuto, Yassine Ben Abdallah, Michelle Lai
(Academic Project)

An installation which narrates, through a fictional diorama of 5 imagined species, the exhaustion that the plantation logic has exerted upon different lands and its people, as well as the ways human and non-humans agents resist against it.
2021
UMBIGO: 18 Anos, 18 Projectos
Dépliant, Webdesign
Client: UMBIGO

with Inês Pinheiro and Vítor Serra (as Multa)

Contemporary art magazine UMBIGO celebrated 18 years in 2019. To commemorate, a collectors' box was produced in collaboration with the Fine-Arts Faculty of Lisbon, which includes 18 reproductions of artworks commissioned to 18 artists or artist duos. We designed a dépliant that serves as index and also as a link between the physical box and a webpage/audiovisual experience.
Printing: FBAUL, ArtWorks
https://umbigomagazine.com/pt/18years-18projects/
2021

Do Voicebanks Dream of the Doomsday Bird?
Sound Art Post-graduation thesis book, Installation [6 posters, sound piece (45'')]
(Academic project)
Do Voicebanks Dream of the Doomsday Bird?
proposes that certain artificial voices which gave rise to a whole subculture (stemming from Japan but now extended worldwide) can be agents of productive change, by subverting gender and racial stereotypes, fostering practices of resource sharing, grassroots cooperation and promoting anti-copyright stances.
Printing: Digiset
2020
Sounds Studies: The Final Report
Identity
From September 2019 to June 2020, I took a 1-year post-graduate course in Sound Art at FBAUL. Even as COVID hit, we still managed to present our final works in what ended up being also the last collective exhibition of the programme, which was extinct the following year. I created the visual identity and communication materials for the exhibition, which took place in Zaratan, Lisbon, between June and August 2020.
2020
Mutations For
Poster, Information design
Client: JC Leisure
Mutations For
, by ambient musician JC Leisure, is an album built from the artist's collection of mixtapes from circa 1992 onwards that distil the counterculture of rave, free parties and pirate radio broadcasts. I worked closely with JC to create a poster which existed as the only physical manifestation of the album. The object translates JC's working process into a sort of deconstructed infographic, where the cassette assumes the role of the "
lifeboat
", a raft which carries the unstable history of rave counterculture onwards, mutating "
instability into utopic drives
."
Listen to Mutations For.
2020

National Conservatory Dance School
(Escola de Dança do Conservatório Nacional)
Identity system
Client: EDCN
with Inês Pinheiro and Vítor Serra (as Multa)

Since 1839, the National Conservatory Dance School prepares students from ages 6 to 18 to enter the upper echelons of Ballet and Contemporary dancing on the world stage. This institution stands at an equilibrium of respect, prestige, dynamism and forward momentum. Uniting tradition and canon with innovation, growth and the constant motion of the avant-garde, we developed a new visual identity and a standards manual that was then passed on to the school's in-house designer for implementation.
2019–2020

It Takes Several Minutes
For The Eyes To Ajdust To The Dark
Identity, editorial design
with Inês Pinheiro and Vítor Serra

I was one of six students selected to design the visual identity of the yearly graduate show of the Communication Design department at the Faculty of Fine-Arts of Lisbon. In 2019, the exhibition
It Takes Several Minutes for the Eyes to Adjust to the Dark
presented works developed throughout the final year of our bachelors, where we had the chance to meditate about the relationship between reality, fiction and design.
The visual identity was developed in collaboration with Inês Pinheiro, Vítor Serra, Ana Beatriz Gama, Nádia Alexandre and Diogo Lourenço. We then split to take on different responsibilities: the publication was designed by me, Inês and Vítor, the exhibition design was coordinated by Nádia and Ana, and the website was designed by Diogo.
@ittakesseveralminutes
https://ittakesseveralminutes.belasartes.ulisboa.pt/
Printing: Maiadouro
Production: FBAUL
2019

Fazedores de Letras
Editorial design
with Ana Beatriz Gama, Inês Pinheiro and Vítor Serra

Fazedores de Letras,
a project by AEFLUL (Student Union of the Faculty of Humanities of the University of Lisbon)
,
is one of the oldest still in print newspapers by a student union in Portugal. Me and my colleagues Ana, Inês and Vítor were selected as we finished our studies at FBAUL to design a special comemmorative issue to mark their 26th anniversary. Beyond designing the issue, we also acted as editors, parsing through 26 years of issues and selecting texts that best represented the changes it underwent throughout its lifespan.
Printing: GUIDE Artes Gráficas
2019
Naomi
Identity, Tape + Album art
Client: HRNS

Ambient/electronic duo HRNS commissioned me to design the art for their latest album,
Naomi
. The identity is meant to evoke the album's delicate drone landscapes, translating autotuned voices and white noise into sharp yet elegant shapes. A custom lettering and logo were designed, along with a poster for the live debut.
I also designed the logo for
Warm Winters Ltd.
, the London-based label where Naomi was released.
Listen to Naomi here.
00:NEKYIA
Identity, Album art
Client: 00:NEKYIA

Upcoming experimental art and electronic music collective 00:NEKYIA
made their debut in Rua das Gaivotas, Lisbon, early 2019. The duo, composed by Pedro Menezes (
Swan Palace
) and Afonso Arrepia Ferreira (
FARWARMTH
), asked me to design the logo and lettering for the collective, the album art for their first compilation,
HYMN
, and the communication materials for the release event.
The release party featured a light installation by Pedro Gramaxo.
Listen to HYMN here.